V9000 COMMANDER™ CABIN FIRE + SMOKE TRAINER
Conducting fire training regardless the outside weather conditions? Then the V9000 Commander™ is your fire trainer. With an attached observation cabin, the V9000 Commander™ offers space for up to 25 trainees, watching the training proceedings inside the fire training area through an extra large glass observation window. The insulated observation cabin is equipped with both heating and air-conditioning.
CHECK OUT THE

V9000 COMMANDER™
THE V9000 COMMANDER™ BRIEFLY EXPLAINED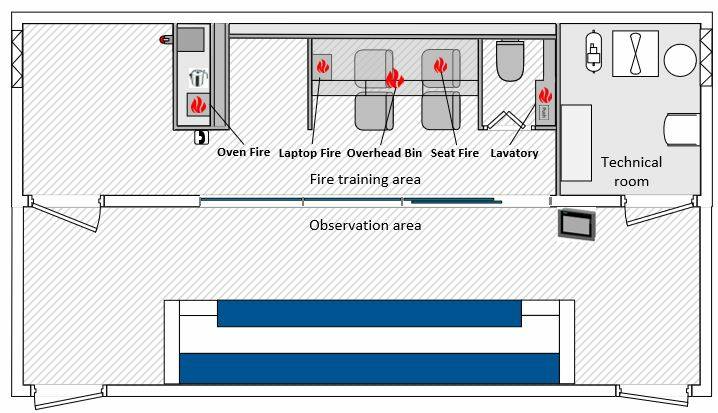 V9000 Commander™ Cabin Fire + Smoke Trainer
Category: double-cabin fire trainer
Dimensions (L x W x H): 9,0m x 4,8m x 2,6m / 30ft x 16ft x 8,5ft
Capacity: 18 - 25 persons
Installation: outside or inside
Fires: laptop, smartphone, tablet, oven, seat, luggage compartment, lavatory waste bin
Training features: fire, smoke, heat, glowing spots, short circuit effects, smoke detection
Equipment: automatic refilling station, training fire extiguishers, remote control unit, air compressor, water decalcifier, (defrost) heating
Required utilities: electrical power, tap water, propane gas, internet
Extreme Reality (XR) is what the V9000 Commander™ XR delivers. All human senses shall be triggered during fire training to create the most realistic training environment.
In addition to the standard V9000 Commander™, the XR-version has standard hot spots in the lavatory door and luggage bins, cabin panic sound and burning smell. If you also choose the optional air conditioning smoke feature, training is a V9000 Commander™ XR is an experience you will never forget! Check out the video.
Only limited space available for installation of your fire trainer?
Our V7000 Brigade™ and V9000 Commander™ COMPACT models offer the same training functionalities,
however concentrated in a 24ft (7,34m) housing.
OPERATORS OF THE

V9000 COMMANDER™ SERIES